Rubber moulding is an manufacturing process used to produce technical articles for industrial use, where the techniques adopted depend on the type of article required and the properties it must have. On customer request, AGED is able to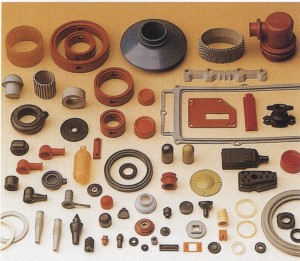 design and manufacture using elastomers technical articles of any type and shape using one of two moulding techniques: pressing for vulcanised rubber, casting for polyurethanes or castable silicones.
The company accepts orders for both large and small series, as well as for articles of very large-sizes. Customers of the Turin company – that nevertheless operates nationwide –  are composed of large and small-sized companies from a wide variety of industrial sectors, from automotive, electronic, textile and hydraulic to the food and wine industries.
Customers also turn to us for the supply of many other articles, such as those listed below:
. standard vibration dampeners
. gaskets
. pump fittings
. rollers
. food industry guards
. sheets of varying thicknesses
. valves
. sealing devices
Each article is produced respecting the international standards that apply in the sector of reference. Come and discover what we can offer you !